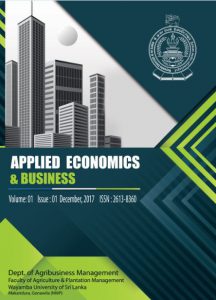 Aims and Scope:
This journal publishes original contributions (original research, reviews, mini-reviews, perspectives and spotlights) related to applied economics, mainly related to applications of microeconomics to understand economics of production, consumption, marketing and business. The journal accepts important research articles from all over the world. Primary criteria for selecting papers are quality and importance for the field. Applied Economics & Business is published by the Department of Agribusiness Management of the Wayamba University of Sri Lanka and is published twice a year, June and December and covers a wide range of disciplines, including, but not limited to:
---
About This Issue | Full PDF
The Determinants of Unemployment among the Educated Youth in Sri Lanka
Mallawarachchi, L. U., and Peiris, T. S. G.
Farmer Perception, Environmental Awareness, and Overuse of Fertilizer in Kalpitiya: A Preliminary Investigation using Bayesian Econometrics
De Silva, L. H. N., Edirisinghe, J. C., Udayanga, N. W. B. A. L. and Gimhani, D. R.

Strengthening Quality Seed Potato Production in Sri Lanka through Viable Public-Private Partnerships (PPP)
Kuruppu I.V., Amarakoon A. R. W. M. M. D., and Fernando S. P.
A Systematic Literature Review on Financial Stress of Small and Medium Entrepreneurs
Jayasekara, B. E. A., Fernando, P. N. D. and Ranjani, R. P. C.
The Paddy Farmers' Channel Choice and Links to the Public and Private Marketing Channels in Sri Lanka
Wijesooriya, W. A. N., Champika, P. A. J., and Kuruppu, I. V.
Dynamics of Public Debt Sustainability and Economic Growth: The Case of Sri Lanka
Rathnasiri, R. A., and Soysa, J. S. V. N.