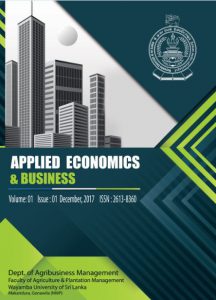 Aims and Scope:
This journal publishes original contributions (original research, reviews, mini-reviews, perspectives and spotlights) related to applied economics, mainly related to applications of microeconomics to understand economics of production, consumption, marketing and business. The journal accepts important research articles from all over the world. Primary criteria for selecting papers are quality and importance for the field. Applied Economics & Business is published by the Department of Agribusiness Management of the Wayamba University of Sri Lanka and is published twice a year, June and December and covers a wide range of disciplines, including, but not limited to:
---
Factors Affecting Adoption of Improved Maize Varieties in Western Hills of Nepal – A Tobit Model Analysis
Lamichhane, J. Sharma, T. Gairhe. S. and Adhikari, S. P.
Use of GIS Geographically Weighted Regression to Determine Natural Rubber Productivity and Their Driving Forces: A Case Study in the Kalutara District of Sri Lanka
Sankalpa, J. K. S. Wijesuriya, W. Karunaratne, S. and Ishani, P. G. N.
Vegetable Buying Behavior in Kurunegala District
Debarawatta, R. D. N. and Azardeen, O.
Price Formation, Seller Satisfaction and Degree of Competition at the Colombo Tea Auction
Sankalpana, H. S. A. Gajanayake, B and Kumara Kithsiri, K. H. S.
Do Urban Households Prefer Medicinal Plants for Landscaping? A Case Study in Kurunegala Municipal Area
De Silva, K. J. B. and Yakandawala, K.