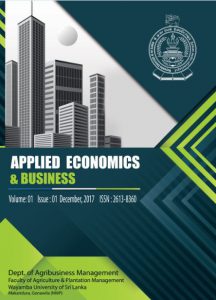 Aims and Scope:
This journal publishes original contributions (original research, reviews, mini-reviews, perspectives and spotlights) related to applied economics, mainly related to applications of microeconomics to understand economics of production, consumption, marketing and business. The journal accepts important research articles from all over the world. Primary criteria for selecting papers are quality and importance for the field. Applied Economics & Business is published by the Department of Agribusiness Management of the Wayamba University of Sri Lanka and is published twice a year, June and December and covers a wide range of disciplines, including, but not limited to:
---
About This Issue | Full PDF
Is the Willingness to Pay Affected by Beach-Related Attributes? Hedonic Pricing Approach for Valuing Environmental Amenities
Jayasekara, K. D. De. S. and Gunaratne, L. H. P.
Determinants of Consumption Expenditure among Tomato Farmers in Ghana
Aidoo-Mensah, D.
Factors Affecting the Consumption of Inland Fish: An application of the Theory of Planned Behavior
Jayasinghe, J.M.J.K., Sasikaran, S. and Jayasinghe, C.V.L.
Loss of Manpower due to Road Traffic Congestion in Sri Lanka: A Study in Kandy City
Karunarathna M.
Developing a Socioeconomic Vulnerability Index Using two Agricultural Communities Exposed to Climate Change: A Case Study in Wanathawilluwa in Puttlam District of Sri Lanka
Demel, M.S.V., Udayanga, N.W.B.A.L., Gajanayake, B., Hapuarachchi, B. and Perera, D.