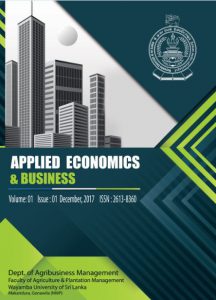 Aims and Scope:
This journal publishes original contributions (original research, reviews, mini-reviews, perspectives and spotlights) related to applied economics, mainly related to applications of microeconomics to understand economics of production, consumption, marketing and business. The journal accepts important research articles from all over the world. Primary criteria for selecting papers are quality and importance for the field. Applied Economics & Business is published by the Department of Agribusiness Management of the Wayamba University of Sri Lanka and is published twice a year, June and December and covers a wide range of disciplines, including, but not limited to:
---
About This Issue | Full PDF
Contribution of the Women's Cooperative Societies for Living Standards of Rural Family Life
Jayawardena, A.M.A. and Rathnasiri R.A.
Capability Requirements on Fraud Prevention in the Nigerian Public Sector: The perception of Professional Accountant
Lateef, S.A., Rashid, N.N.M., Mubaraq, S., and Abubakar, U.F.
Assessing the Factors Affecting Labour Productivity of Tea Harvesters in Up Country Tea Plantations in Sri Lanka A Case Study in Nuwara-Eliya District
Atapattu, A.M.I.H. and Jayasinghe-Mudalige, U.K.
Mapping High-Potential Areas Using Maximum Entropy Modeling Approach and Constraints Analysis of Pineapple (Ananas comosus) Cultivation in Sri Lanka
Wijegunawardhana, A.V., Abeynayake, N.R. and Kadupitiya, H.K.
Mitigation of Accidents through Occupational Risk Assessment at Workplace: A Case Study in Lanka Sugar Company Private Limited, Pelwatte
Madhuranga, D.G.C.S., Wijayawardhane, W.H.S.R. and De Silva, N.
Construction of a Composite Vegetable Price Index Using Modified Factor Analysis
Siriwardhana, S.M.C.P., Thattil, R.O. and Abeynayake R.